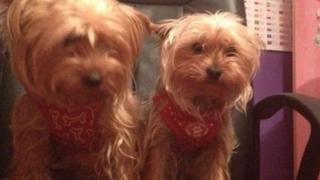 A police dog attacked and fatally injured a Yorkshire terrier while being walked on an isolated lane in Lincolnshire.
Barbie was bitten on Monday night on a private road near Fishtoft, Boston.
Lincolnshire Police said the officer stopped to exercise his dog and was unaware of Barbie approaching.
Owner Charles Giermak told the Lincolnshire Echo the police dog came out of the darkness and attacked his pet, which was put down by a vet.
More on this and other stories from across Lincolnshire on our Live page
It has been reported the three-year-old was "shaken like a rag doll" by a black German Shepherd and suffered two fractures to her spine.
A police spokesperson said: "PC Mick Judge, the officer involved, is a dog lover as well as a professional handler. He is very upset at what has happened.
"The incident is being investigated and we will of course compensate the owner of the dog for all the vet fees."
The officer is part of the East Midlands Operational Support Services team.
Read more: http://www.bbc.co.uk/news/uk-england-lincolnshire-35704396