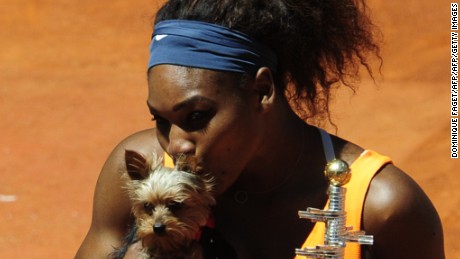 (CNN)Who let the dogs out?
It wasn't
Serena Williams
but the world No. 1 is regretting eating some of her beloved canine's food.
Williams ordered the meal for three-year-old Chip — a Yorkshire Terrier — at the hotel she was staying at during the
Italian Open in Rome
. The salmon and rice mix — which cost $17 — looked so good, she said, that the 21-time grand slam champion decided to give it a try.
Wrong move as she quickly became ill and had to run to the bathroom.
"Before you judge me, look at it," Williams said on Snapchat in a video that was later
posted on YouTube
, panning to the salmon and rice. "Come on. It looks good. In fact when I take the food to go, they give me the same food package.
"It comes with the expensive looking spoon. I'm like, 'What the heck? I'm going to try a piece.'"
Read more: http://www.cnn.com/2016/05/13/tennis/serena-williams-dog-food-tennis-italian-open/index.html