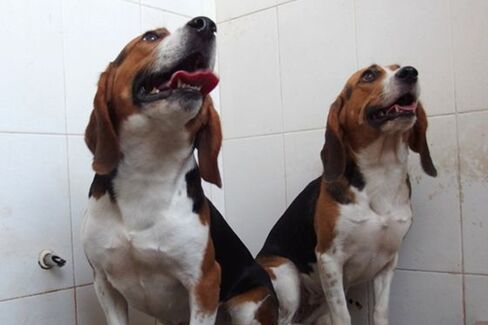 A surge in dog and cat ownership is fueling one of South Koreas few growth industriesincreased spending on pet products and services.
The country's pet market is expected to grow to 5.81 trillion won ($5.2 billion) by 2020, more than double the current 2.29 trillion won and a vast increase on the 900 billion won in 2012, according to the Nonghyup Livestock Business Research Center.
As one of the few bright spots in an otherwise gloomy economy, South Korea recently announced the pet industry will be one of five new business sectors the government will seek to nurture and expand.
Initiatives include beefing up laws and regulations related to pet breeding farms and deregulating industries such as pet insurance and pet funeral services.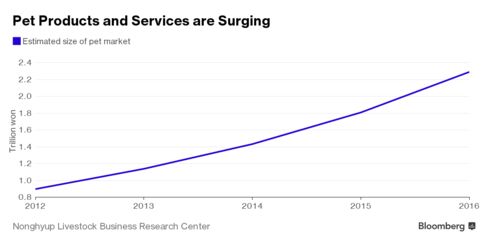 With fewer South Korean adults marrying and having children, the number of single-person households is rising, fueling a change in attitudes toward dogs.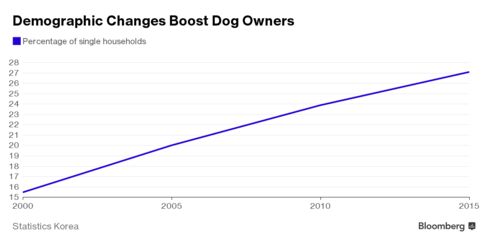 Among the younger generation, dogs are increasingly seen as pets and companions, according to Hwang Myung-chul, head of Nonghyup. More Koreans think of dogs as family members and are less reluctant to spend money on them, Hwang said.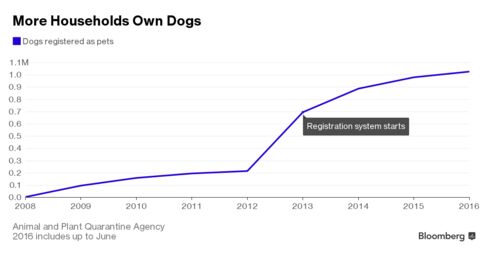 Correspondingly, the number of restaurants serving dog meat in Seoul has dropped more than 40% in the past decade, according to the latest city government data.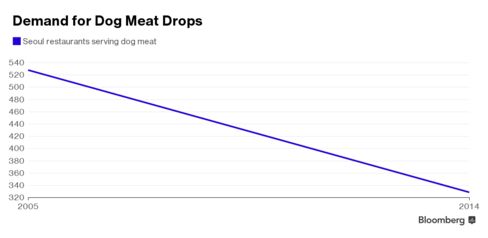 Jang Hanna, a 24-year-old web planner who lives with her brother in a Seoul apartment, adopted a 5-month old Bichon puppy in April and plans to adopt a poodle in a year or so.
When you see your baby wag his tail at you, you feel loved and you love him back," said Jang, who hires a pet sitter for Hada when she goes to work.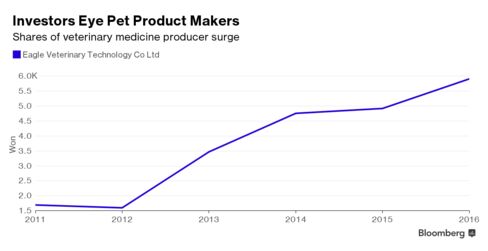 Read more: http://www.bloomberg.com/news/articles/2016-08-04/fido-as-friend-not-food-is-a-howling-success-in-glum-korea