For some people, their pets are practically their children. So when they go missing there's almost nothing they wouldn't do to get them back.
That includes an Indiana couple who, after searching for their beloved pet cat for two weeks, turned to none other than a pet detective — who solved the case in three days' time.
"Jim Berns, pet detective," the Cincinnati-based private eye introduced himself to ABC 6 News.
"That's kind of crazy, but when we go out there and work with these folks we really come out in a very professional manner," he said.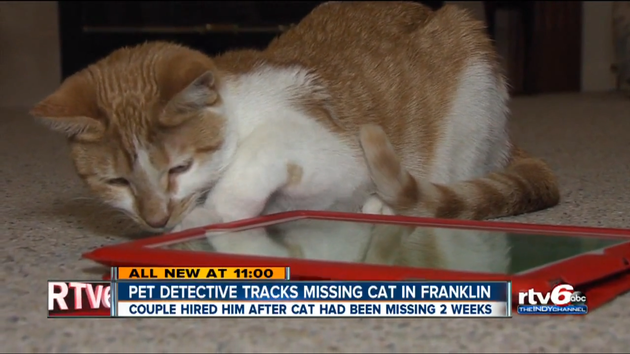 It was Jan. 16 when Marmalade took off from Franklin home of Andrew Cummins and Diane Trout-Cummins, they said. When the 7-month-old cat didn't return, the owners said they nearly went berserk.
"We slept by the back door on an air mattress and I mean, we were checking the door every few minutes," Trout-Cummins told ABC. Then they turned to Google, where they found Berns' listing.
Berns' team of hound dogs took a whiff of one of Marmalade's blankets and set off, Berns said, taking them to an area beneath a neighbor's porch, about two blocks away.
There was no Marmalade, but they set up a trap there just in case. Two days later, they checked the cage and found the couple's precious kitty inside.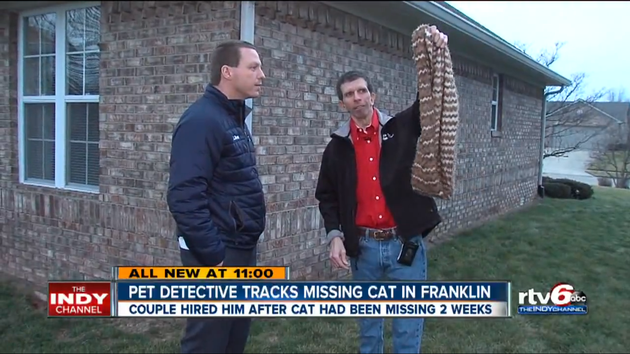 Berns has worked as a part-time pet detective throughout the Cincinnati area for the last eight years, he told the Daily Journal. His team in the search for Marmalade included three dogs — a bloodhound, a bluetick coonhound and a hound/mastiff mix.
He boasts a near 70 percent success rate with 377 cases under his belt, he said. Not all are for missing cats and dogs.
"We've searched for three turtles and got all three back," he told the Journal.
That's not to say that all of his successes had happy endings. Some of the lost animals have been found dead.
"If you find a pet that's been killed or died, at least the owner has some closure. They know for sure what happened to the dog, and you can put that behind you," he told the Columbus Dispatch in 2008. "We think it's a positive either way."
Read more: http://www.huffingtonpost.com/2016/02/04/pet-detective-finds-cat_n_9163586.html