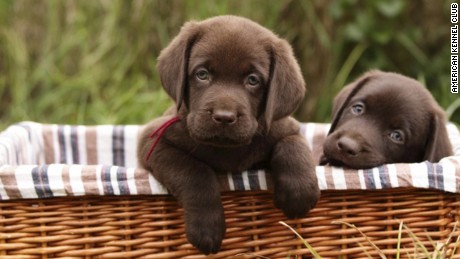 (CNN)The American Kennel Club has named the affable Labrador retriever America's "most popular dog."
This is the 25th consecutive year that Labs have topped the list, which is created using the AKC's registration statistics.
"The versatile, loveable Lab has firmly planted its paw print in AKC's history, celebrating a quarter of a century as America's most popular dog," AKC Vice President Gina DiNardo said.
The AKC says that Labs are an intelligent and family-friendly breed, helping to solidify their high ranking.
German shepherds, golden retrievers, bulldogs and beagles rounded out the top five.
French bulldogs, however, are making a significant charge in the rankings, moving up to sixth place from 11th in 2013.
The full rankings are available here
More important than any ranking, though, your dog will still be happy to see you and greet you with a wagging tail, and possibly a sloppy kiss, ranking or not.
Read more: http://www.cnn.com/2016/02/23/living/most-popular-dog-labrador-retriever/index.html