This golden retriever is undoubtedly her Michigan owners best friend.
Kelsey reportedly stayed with her owner, a man identified only as Bob, and kept him safe for over 20 hours after he slipped in the snow and broke his neck at 10:30 p.m. on New Years Eve.
Bob was collecting a log for his fire outside hisEmmet County home when the injury occurred.As he lay paralyzed in temperatures that plummeted to just 20 degrees, the loyal pooch licked his face and hands and lay across his body to keep him warm.
She kept barking for help but never left my side, Bob said. She kept me warm and alert. I knew I had to persevere through this and that it was my choice to stay alive.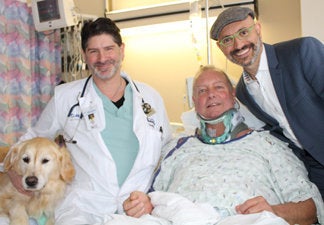 As Bobs nearest neighbor lives a quarter mile away, it wasnt until 6:30 p.m. on New Years Day that another nearby resident came over and found him lying unconscious on the ground.
Emergency crews took Bob to the McLaren Northern Michigan Emergency Department in Petoskey,where doctors diagnosed him as hypothermic and with herniated discs in his neck and back. The latter injuries were compressing his spinal cord and causing paralysis in his legs.
However, he had not suffered any frostbite.
Neurosurgeon Chaim Colensuccessfully performed spinal decompression surgery on Bob, who will need lengthy physical therapy to regain his full strength. The hospital said he ison the road to recovery, with Colen citing Kelsey as vital to his survival.
It was providing warmth, Colen told MLive.com in reference to the animal. Had the dog been smaller, it would have likely died in the frigid temperatures. He was very fortunate to have a very big, hairy dog.
Read more: http://www.huffingtonpost.com/entry/dog-saves-owners-life-broken-neck_us_5878b465e4b09281d0ea563c