In the age-old battle between cats and dogs, anything goes — including making your opponent eat snow.
A cat named Kiwi was filmed getting shoved face first into the white stuff by a bouncing German Shepherd that appeared to delight in her sneaky feat before bounding away.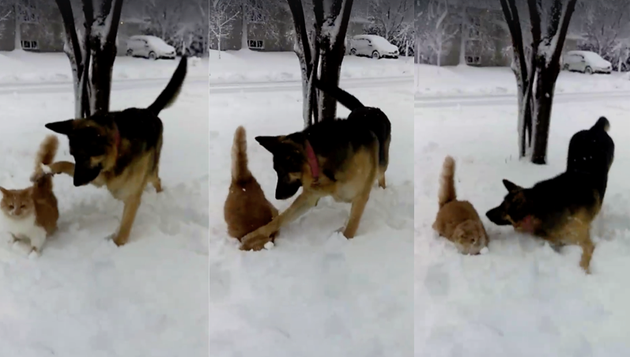 The hilarious video shot in Canada and posted to Facebook last week shows Kiwi already appearing not too crazy about all the cold snow surrounding her. Her four-legged frenemy Katniss, on the other hand, appears positively excited by the crisp, fresh air.
Here's hoping Kiwi is the forgiving type and she's nothing like this cat because Katniss, you have it coming.
Read more: http://www.huffingtonpost.com/entry/dog-cat-face-plant-snow_us_584eeb8ee4b04c8e2bb0d1fd