LOS ANGELES, Jan 29 (Variety.com) – Despite the TMZ videos and boycott threats, A Dogs Purpose still managed to pull in family audiences, who apparently were not convinced of the significance of footage of a cowering German Shepherd being forced into rushing water.
The story of a dog who gets reincarnated, living through and playing mans best friend to multiple masters, brought in $18.4 million in its opening weekend. Thats in line with the openings of other films for animal-lovers, such as Eight Below ($20.1 million) and Dolphin Tale ($19.1 million), neither one of which raised the ire of PETA. Universal and Amblin partnered on A Dogs Purpose. It has a $22 million production budget.
It opened right in the sweet spot, if not on the higher end of expectations, said Nick Carpou, Universals domestic distribution chief. The fact that the film has worked so well speaks directly to its resonating message. The controversy surrounding the protests generated by a highly edited video is hard to ignore. However, the box office shows that this film rises above that.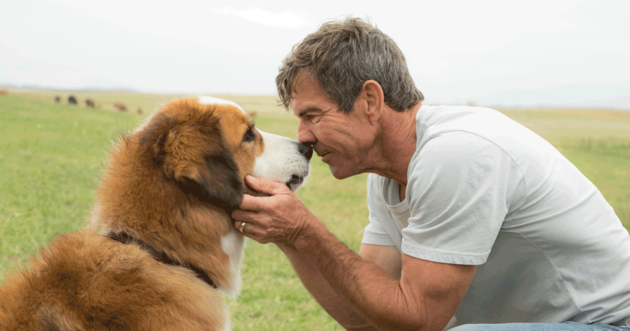 He noted that even at multiplexes where there were protests, such as the Arclight in Los Angeles, the film did strong business. Its a solid opening, one that suggests that the companies were successful in containing the wave of bad publicity that threatened A Dogs Purposes release. After TMZ released the video, director Lasse Hallstrom, producer Gavin Polone, and various cast members expressed their outrage. They placed most of the blame on the films second-unit production team or argued that the video was manipulated, while Universal, looking to contain the blowback, canceled the films premiere. The protest threats and viral video did take a bite out of the grosses tracking two weeks ago suggested the film would open to as much as $24 million but the public relations headaches werent fatal.
What happened did hurt the box office, said Jeff Bock, an analyst with Exhibitor Relations. I think $25 million was easily in reach before the controversy. It could hurt it in the long run. I dont think it will sustain itself like a family film usually does.
One film is showing some impressive endurance. Blumhouse and Univerals Split managed to hold on to the top spot for the second straight weekend, earning $26.3 million. The low-budget thriller film has made $78 million domestically, and marks a return to form for M. Night Shyamalan. The director of The Sixth Sense has reinvented himself in recent years by working with producer Jason Blum. Once white-hot, his star dimmed with bombs such as The Lady in the Water and After Earth. However, The Visit, another Blumhouse hit he directed, and now Split, have restored some of Shyamalans luster.
Typically movies like this open big and then have a huge drop, said Paul Dergarabedian, senior media analyst at ComScore. This was such a smart movie. Its well acted and its just a cut above a typical movie in this genre that youre seeing that in its hold. Its a pure reflection of the positive sentiment on social media.
Sonys Resident Evil: The Final Chapter debuted to $13.8 million for a fourth place finish. The latest installment in the video game franchise has earned nearly $80 million worldwide. Sony worldwide marketing and distribution chief Josh Greenstein said the stateside opening was in line with the studios expectations and noted that the Resident Evil series tends to play better abroad. The previous two films made roughly 80% of their grosses from foreign territories.
Resident Evil is built for an international audience, he said, adding, This is a perfect example of looking at a film as a global film and not as a U.S.-centric one.
Its also in keeping with what Sony chief Tom Rothman has tried to emphasize since taking over at the studio in 2015. Under Rothman, Sony has built up its local language division, creating more films targeted at foreign audiences, while emphasizing pictures like Blade Runner 2 and Spider-Man: Homecoming that are geared at the global marketplace. With the weekends grosses, the Resident Evil series has now cruised past the $1 billion mark to become the biggest video game-based franchise in history.
Foxs Hidden Figures continued to pull in crowds, adding $14 million to its gross to push its domestic total to $104 million. The drama about African-American scientists in the early days of the space program was nominated for a Best Picture Academy Award this week.
La La Land capitalized on its 14 Oscar nominations to the tune of $12 million. That pushes the musicals domestic haul to more than $106 million. Lionsgate expanded the number of theaters that La La Land was playing in after it received all the awards love.
The Weinstein Companys Gold collapsed at the box office, eking out $3.5 million to be the worst wide-release opening of Matthew McConaugheys career.
Overall ticket sales were essentially flat with the same weekend last year a period when Kung Fu Panda 3 bowed to $41.3 million. Next weekend brings Rings, a horror film sequel, and The Space Between Us, a science-fiction romance.
Read more: http://www.huffingtonpost.com/entry/a-dogs-purpose-box-office_us_588e3ad4e4b08a14f7e6a34f?ncid=inblnkushpmg00000009