Family and friends gathered Thursday to remember the late actresses Carrie Fisher and Debbie Reynolds in the Beverly Hills living room where they once entertained.
Fisher's only child, 24-year-old actress Billie Lourd, sang along to honor her mother with family friend Meryl Streep, E! News reports. The tune was Fisher's favorite, "Happy Days Are Here Again."
Also in attendance, the outlets note, were Fisher's ex Bryan Lourd, her half-sisters Joely Fisher and Tricia Leigh Fisher, Reynolds' son Todd Fisher, Billie Lourd's rumored boyfriend Taylor Lautner, and a host of other stars including Meg Ryan, Gwyneth Paltrow and George Lucas. (And, of course, the tongue-lolling French bulldog Gary, Fisher's near-constant companion.)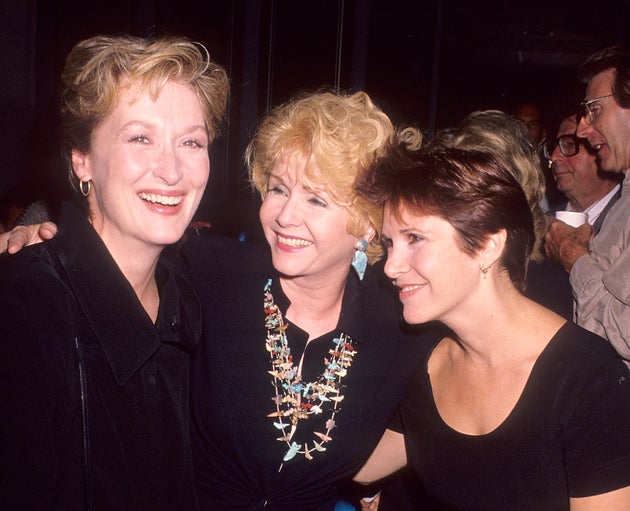 Guests reportedly snacked on Fisher's go-to party foods: fried chicken, collard greens and cornbread. A family friend told People that the memorial was just like the parties she remembered.
"Debbie would sit in the corner, and everyone there would come up and pay homage. Even the biggest stars were starstruck by her. Carrie would walk around barefoot with a can of Coca-Cola, making sure everyone was having a good time, saying the funniest things you've ever heard," the source said.
A funeral is planned for Friday; some of Fisher's cremated remains will reportedly be placed in Reynolds' casket at Forest Lawn Memorial Park in Los Angeles.
Read more: http://www.huffingtonpost.com/entry/meryl-streep-sang-carrie-fishers-favorite-song-at-memorial-with-billie-lourd_us_586f5c13e4b02b5f8588358b