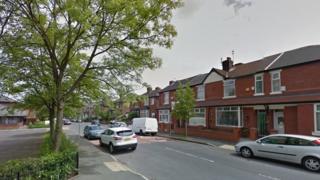 Three children have been seriously hurt in a dog attack by an "American bulldog-type" breed, police have said.
An "out of control" dog was reported at a home on Bluestone Road in Moston, Manchester, shortly after 12:50 GMT, said police. It has now been seized.
Officers said one adult and three children aged 17, 14 and 12 were receiving treatment in hospital.
Greater Manchester Police said their injuries were not thought to be life-threatening.
The North West Ambulance Service said they have no record of the incident so did not attend the scene.
Read more: http://www.bbc.co.uk/news/uk-england-manchester-38161073