Confirmation that Coogan and Rob Brydon will take at least one more TV trip leads us to wonder where in the world the pair will go next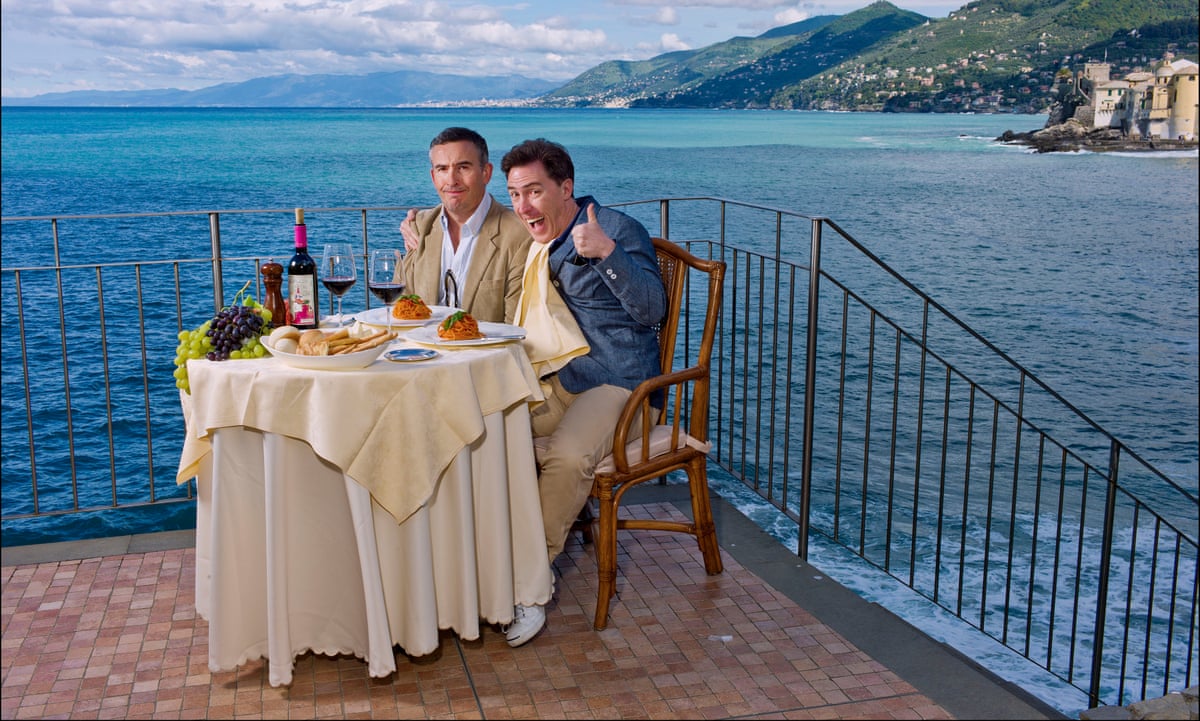 Rob Brydon and Steve Coogan going on a press-commissioned jolly to nice restaurants and doing Roger Moore impressions does not sound like a good idea for TV. But the subtlety and intelligence with which the actors, and the director, Michael Winterbottom, turned that idea into The Trip and The Trip to Italy has given us two of the best series in the past decade.
It has been almost two years since the marvellous The Trip to Italy was on our screens. Two years since weve had the pleasure of hearing Brydon retell, in a soothing American drawl, a story of an immensely erotic experience he had with a kumquat.
So, when Brydon tweeted that there was a new series of The Trip on the horizon, it was perhaps the best news of the year so far. And it raises the question: where will they go next? How far will their magazines budget stretch this time?
If theyre struggling for ideas, here are some scenarios they may like to consider:
Wales
Rob insists on making a pilgrimage to the childhood homes of all the great Welsh stars from Port Talbot: Richard Burton, Anthony Hopkins, Michael Sheen and, of course, himself. At Sheens house, Steve cant contain his jealousy, so he draws a Hitler moustache on what he believes to be the young Sheen in a family photo. Rob reminds Steve that Sheen hasnt lived there for years, but Steve isnt listening and adds a pair of fairly hefty glasses.
The Netherlands
After spending a day at the Rijksmuseum, Rob and Steve visit the sex museum in Amsterdam. While there, a fan asks Rob to do his small man trapped in a box impression, which causes a minor incident after officials fear for the safety of the museums gimp. After that unpleasantness, they go to a coffee shop where, after a couple of hours, Steve forces Rob to recreate the Dan! scene from Im Alan Partridge. For some reason, Steve insists on playing Lynn.
North Korea
Rob and Steve quote Solzhenitsyn to one another in the voice of Frank Spencer as they are led around Pyongyang. Steve comes a cropper when one of the armed guards mistakes his impersonation of Alan Bennett as an attack on the state. After being deported to South Korea, Rob and Steve wolf down a cocker spaniel.
United States
The pair end up in LA and bump into Al Pacino during a meal at the Ivy. Pacino doesnt take kindly to their incessant impersonations, so he flings a haddock at them. This unfortunately causes Rob to shout Hoo-ah! in genuine pain.
Germany
Quotes from Goethe and Thomas Mann fly back and forth as Rob and Steve drive down the autobahn at 70mph (Rob is too nervous to go any faster). After they arrive at their hotel in Berlin, Wagners Gtterdmmerung plays as Steve sits on the loo contemplating his wrinkled thighs. The trip ends abruptly after some locals become inexplicably enraged at Robs remarkably accurate Liza Minnelli impersonation.
Saudi Arabia
Rob does an Alec Guinness impersonation for the entire trip so Steve kills him.
India
Steve and Rob go to Delhi and visit Lutyens India Gate and the Viceroys palace. While taking a well-earned break on the Rajpath, an elephant craps on Steves expensive wicker sandals. The pair end their trip in Udaipur because Rob wants to see where Octopussy was filmed. Over a beer on the floating palace, Rob and Steve finally confess their love for each other in the voice of Roger Moore. Then, suddenly, they kiss passionately in the style of Richard Burton and Elizabeth Taylor. Steve plays Elizabeth Taylor.
Read more: http://www.theguardian.com/tv-and-radio/tvandradioblog/2016/feb/11/where-next-for-steve-coogans-the-trip